The new album...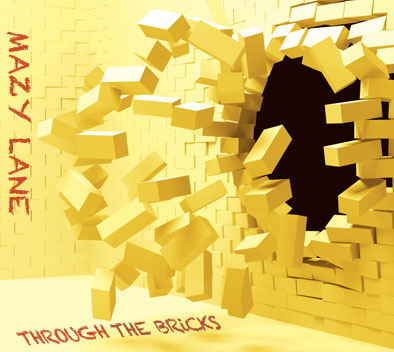 The new album by MAZY LANE is called;
"THROUGH THE BRICKS"
It's an album with a lot of guitars and rough vocals.
Besides rock songs like "Cruel Minded" and
"Drag You" there are also some guitar pop songs
like "In Every Life" and "Why Do We" on it.
The promo track (single) from the cd is the song;
"Keep Your Big Mouth Shut", a "protest" rock song
with a twist, see videos (YouTube and Myspace)
Renee van de Graaf, aka Renee Lopez, who
played bass guitar in various bands
(Herman Brood, Bertus Borgers and Barry Hay),
started the music project MAZY LANE in 2005.
Together with the singers Leo Scheffers and Geert
Jan Westenbrink, assisted by musician friends,
they made two previous albums;
"Mazy Lane" (2005) and
"What You Measure With A Clock" (2011)
On all albums there are only original compositions.
Gradually MAZY LANE has become a project by
Leo and Renee. They already know each other since
childhood. On the new album you can hear a lot of
musical influences from that time. Renee plays
guitar, bass and some keys and Leo sings. Again assisted
by guest musicians; Bert Beenen (backround vocals),
Mick Heine and Erwin van Ligten (guitars).
PLAY IT LOUD!
BThe recordings are made at Lopez Productions studio, Hilversum, the Netherlands.
Buy:

Streaming:


Physical album: mail